All news
Our Practitioner Team Manager, Emma, reflects on delivering our training course, The Other Side of the Wall (TOSOW), recently.
I have been involved in the delivery of our three-day training course, TOSOW, for a number of years now, taking it as far north as Edinburgh with a venue at the seat of the castle, to the southern hemisphere of Australia and various places in between.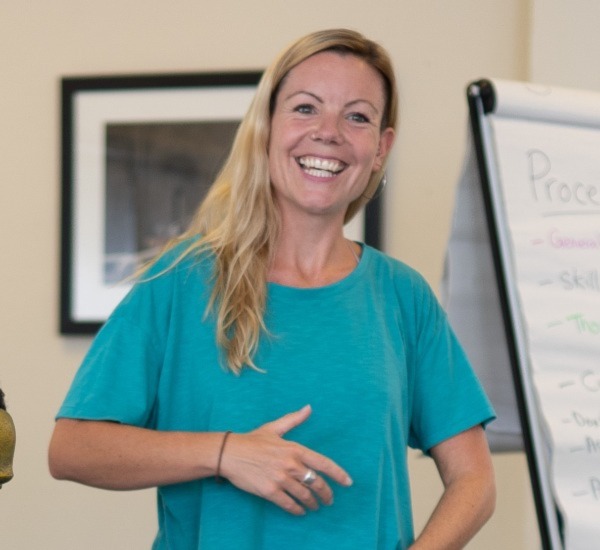 This month the course was held right on our doorstep in Moseley with a combination of arts and criminal justice practitioners and students. Whilst local for us, the attendees managed to span far and wide with people arriving from London, Glasgow, Manchester, Middlesborough and even good old Smethwick. From my perspective, as the lead practitioner, I often feel a combination of privilege in sharing Geese's methodology with interested people, alongside a great responsibility to do it justice. The last course was no exception.
What unfolded over the three days was a deep dive into our techniques, enabling the group to firstly experience them as participants, effectively going through the same process we invite our client groups to undertake. Gradually the group formed, immersing themselves in exercises that start to rid us of our roles and identities and instead all became people playing in the same space. Leaving external pressures at the door and landing very much in the present. It's important that we know through feeling and experience what we are asking of our groups. Layered on this is then the understanding and insight from a facilitator's point of view, where we take time to discuss, unpick and practice what goes on behind the scenes in our bid to create safer spaces that support exploring a process of change.
"I've learned particularly how to 'process' drama exercises to make them relevant to a specific group and to 'apply' the work to achieve impact."

– TOSOW participant
Everyone comes with their own valuable professional, academic and life experiences, so great conversations often arise from the input. One such example from this course is a discussion around play. In small groups people were asked to discuss the notion of play:
What do we get from playing? When does it stop?
I showed a brief scene (I pinched it from my boss after seeing him do it in Sydney). It's a mimed scene showing two different perspectives of a situation where play is curtailed for a small child. One shows the child's experience of engaging in play whilst the other shows a parent aggressively stopping the play. From this very short scene people described a strong emotional response which led into a discussion about the rules the child was learning about play. Play stopping early in childhood is potentially something that a number of people we work with in the criminal justice system have experienced and this exploration of play frames our use of active methodology and highlights the importance of why we utilise it in our sessions in a such a meaningful way.
"An important form of training that allows you to really practise and play. Emma was an excellent guide and truly runs the training days with such care and passion. Emma invited everyone to feel they can try anything and be in a safe space."

– TOSOW participant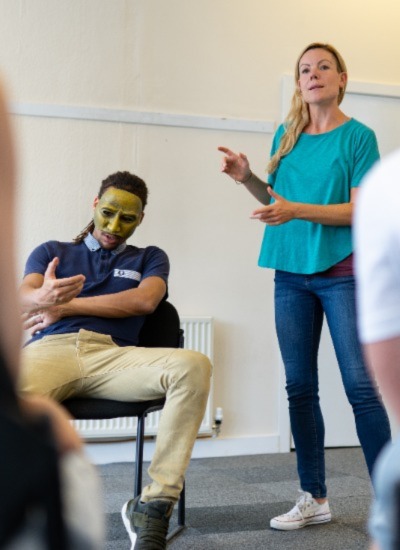 At the end of each day in TOSOW we invite the participants to 'check-out', just as we would do with any service user group, to provide a comment or reflection on the material covered during the day. Some of the reflections from this training were about seeing experiential exercises in a whole new light, realising the huge possibilities they provide for exploration and discovery. This exploration of exercises is just one area we unpick during the three days; we also go on to look at theatre created by the facilitator and theatre you can get the group to create. Some of the scenes created on this course were gold and you can feel the temperature rise in the group when one of these drops. It's like an audience can't resist becoming involved when the scene is so simple yet so captivating.
Anyway, rather than risk going into the minutiae of the whole three days, I'll close by mentioning the third layer to this course. It's one we as Geese practitioners don't really get to see, and that is how participants go on to translate our practices into their own. Whether they are working independently or as part of an organisation, the real work takes place when people leave the training room and figure out how this all fits into their own delivery. I am often curious as to how the work melds and morphs beyond the training room and am hopeful it sustains the power of working creatively and responsively with individuals to explore their process of positive change.